About your Grade 4M team . . .
About
We, Ms. Mckitrick and Mrs. Barkey, are your 4M teachers this year . . .
Ms. McKitrick
     Hi! My name is Cynthia McKitrick, and this is my eleventh year teaching grade 4 at Trinity Christian School! I love that I get to be a part of such an amazing community, and am overwhelmed with God's presence in this school.   I am so excited to be teaching your precious children!  I  teach Monday-Thursday, and am primarily responsible for Language Arts, Social Studies, Bible, and Art!     
     I grew up in Saskatoon, and then attended the Baptist Leadership Training School in Calgary before obtaining my B.Ed at the University of Alberta.  I always knew I wanted to be a teacher, and started practicing at a young age on my 4 younger siblings!  Our family  lived in Edmonton and California before moving to Calgary 11 years ago.   Before returning to teaching, my time had been focused on raising my children, homeschooling, teaching piano and leading children's ministries.     
A few facts:
Favourite verse: Isaiah 40:31!! My mom gave me this verse when I was nervous about going to camp for the first time at 9 years old!
My four girls are all TCS graduates! 
Alycia is 23 and is studying Theology and Intercultural Studies at Ambrose University. She began singing while a TCS student and now uses her worship gifts as she leads chapels at University and at our church!

Jessica is 22 and is in Biblical Studies at Columbia Bible College in Abbostford. This summer she married another former TCS graduate!

Chelsea is 18, and just left for a gap year in Europe! She will be at Capernwray Bible School in Austria, and then is working at a Christian Youth Hostel in Amsterdam! 

Julia is a grade 12 student at Centennial High School! She is often back at TCS to help with sport camps or reffing. I had the privilege of teaching Julia when she was in grade 4! 
Favourite food: Thai food, and any type of seafood!
Favourite family activities: The girls and I love to travel and explore God's beautiful world!
Mrs. Barkey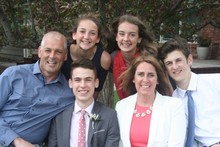 Hello to All - welcome to the 4M website! My name is Krista Barkey.  I do count it a privilege to have this opportunity to be working here at TCS as a homeroom teacher, in addition to substitute teaching and covering various personal leave positions over the years. Previous teaching experience has found me teaching at Glenmore Christian Academy and Calgary Academy.  My family and I have been a part of the TCS community since 2010 when our four children came to attend school here. I am married to Chris, and we have two boys - Jonah and Eli, and two girls - Marin and Jill. This school year will mark our last year having a child at the school. We have been grateful for the Godly and caring administration, passionate teachers, all amazing support staff, and the many families and staff who have become friends for us here at TCS.
When I am not teaching, I love to spend my time with my family. Things we enjoy together are camping, being involved with all kinds of sports, either playing or watching, playing games, and spending time together with extended family and friends. Bonavista Evangelical Missionary Church is where we call home. My husband attended here as a child and together as a couple and family we have called BEMC home for 23 years. It is a VERY special place to us!
I look forward to this school year while teaching teach your wonderful children!